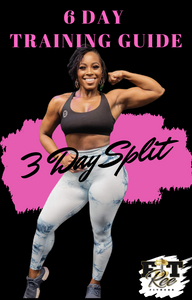 Whether you're looking to switch up your current training regimen, direction in the gym, or an introduction to training for results - this guide is for you! The 6-day training program does not contain any video visuals, however the guide is complete with exercise names and detailed descriptions. 
Day 1: Glute & Hamstrings
Each exercise can be searched on Google or YouTube using the names provided if a visual is needed.
**Exercises can be performed using body weight, but resistance bands, dumbbells, and barbells are encouraged for optimized results**

Once you've purchased your program you'll be prompted to download your meal plan post checkout